CHILLED CASTING ROLLS
For applications requiring Chilled Roll Quenching, J J Jenkins, Incorporated Chilled Rolls are available to diameters up to 30 inches and lengths up to 96 inches.
Features include a highly polished hard-chrome plated finish and a heavy mounting structure to insure vibration free operation. A highly efficient internal flow distribution assures an even temperature profile across the full working face of the roll.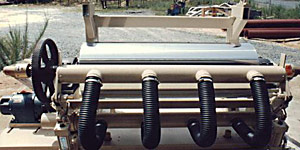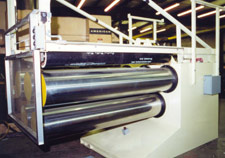 DRAW/ANNEALING STAND
J J Jenkins, Incorporated Draw Stands for slit tape and monofilament applications have rapidly developed into the most soundly built, high quality draw stands in the industry. Engineering with an understanding that reliable draw stands are necessary for efficient production, these machines are designed and built to give the maximum available production.
A unique combination of design of the framework, roll, and bearings with large safety factors made for draw stands that can be produced in lengths up to 80 inches long cantilevered, yet be capable of efficient and low maintenance operations. These draw stands are available in 3, 5, 7, or 9 roll construction in ambient, steam, oil, or water heated, or water cooled designs.
When equipped with heated rolls and variable roll velocity capabilities, these units are able to consistently in line anneal (heat set) filaments at extremely high line speeds.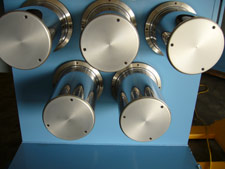 FIBRILLATORS
J J Jenkins, Inc. designs and manufacturers Fibrillators in a number of different designs.
Freestanding units are available for those critical applications that require critical patterns or require close consistency. Available with a number of different styles of arbors, pinned, threaded, or blade type. Available in a wide range of cut densities make it very flexible and reliable.
Free standing units are easily adaptable to almost any brand of machine as well as our own machines.
For our own machine designs we have units that will easily integrate into a roll stand which is convenient when floor space is a problem. 
All units can be equipped to track with line speeds to allow for consistency over a wide speed range.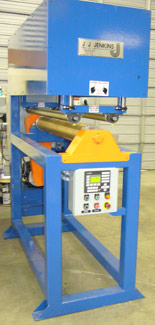 J J Jenkins Inc. Info.
P.O. Box 1949 
Matthews, NC 28106
Manufacturing Plant: 
3380 Smith Farm Road 
Stallings, NC 28105
Hours
Mon.-Thurs: 8am - 5pm
Friday 8am - Noon EST.
S-S: Closed
Call / Fax Us
Tel: (704) 821-6648 
Fax: (704) 821-5112